Hot Items
Featured Products
iPad & iPhone
Recently Viewed
Stand Charger & Non Contact Charger for iPad 2/iPad, iPhone 4 & 4S Same Day Shipping on orders before 6PM (GMT+8).
Wholesale:
$26.03
Case
of
8
Units:
$218.64
$204.08
(6.200kg, 430x320x370mm)

Accumulate last 30-day orders, enjoy lower price
| | |
| --- | --- |
| ≥ 1 unit | $27.33 |
| ≥ 2 units | $26.03 |
| ≥ 1/2 case | $25.77 |
| ≥ 1 case | $25.51 |
| ≥ 4 cases | $24.99 |
| ≥ 10 cases | $24.47 |
---
Shipping Cost: by

More Shipping Methods
| | | | | |
| --- | --- | --- | --- | --- |
| Email: | | Live Chat: | | |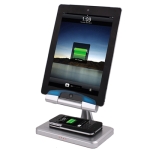 Colors Available: Silver
Item #: S-IPAD2-0120
3733 views


Overview
The product is suitable for iPad and iPhone 4G. It has the function of iPad stand and charging for iPad/iPhone. It adopts non-contact charge proposal which is designed for iPhone, high-efficient and safe.
1) When you charge for iPhone, you can adopt 3 methods including non-contact charge, battery charge and USB charge. Strong applicability and make the use of it more freely.
2) Built-in rechargable Lithium battery of induction battery protection sleeve, can charge for iPhone as inductive receiving port. Moreover, it can charge for the iPhone directly by protection sleeve, or charge by connectting the protection sleeve to iPhone original adapter / USB port of PC device through the corresponding USB cable.
3) Induction battery protection sleeve can be put on any platform by the carriage, which offers the convenience to view films by iPhone. At the same time, with good anti-shock, anti-fall effect,the sleeve can bring good protection function to the iPhone.
4) Induction charge stand has the function of correcting the charging position. It can make the protection sleeve on the best charging area correctly.
5) Singlechip controlling charge, charging features stable, can reach fully saturated state.
6) Low electromagnetism radiation, do no harm to human body.
* Electric Features:
1) Adapter: input voltage:AC100-240V;output voltage:DC12V ;input current:800mA;
2) Induction sender: input voltage:DC12V
3) Protection case: input voltage:DC5.1V;
4) iPad interface: charging voltage:DC5.1V;stand-by current:<30mA;charging current:<500mA;output power:2.5W.
OEM are Welcome! we can print customer's artwork and logo
Type of Packing: Color Box
Package Includes: USB Cable, Travel Charger
We will send the correct Plug Adapter that suitable for the Country in the shipping address:
Europe Plug Adapter (2 Pin Round Pin):
Europe countries, Africa, Middle East
USA Plug Adapter (2 Pin Flat Pin):
United States, South America, Caribbean, Canada, Japan, Korea, Philippines, Thailand and Taiwan
Australia/New Zealand 2 Pin Plug Adapter:
Australia, New Zealand, Argentina
UK Plug Adapter (3 Pin Flat Pin):
England, Ireland, Scotland, Hong Kong, Pakistan, Singapore, Malaysia, Vietnam, Maldives and Qatar
More Pictures
Shipping Methods
To list all the shipping costs from different carriers, select the quantity and your country, and then press [Calc].
| | | | |
| --- | --- | --- | --- |
| | Carrier | Transit Time | Shipping Cost |