S9 Orange, Rugged Waterproof, Dustproof Walkie Talkie Phone, GPS + AGPS, Android 4.2, MTK6572 1.0GHz Dual Core, ROM: 4GB, RAM: 512MB, 4.5 inch Corning Gorilla Glass Capacitive Screen Smart Phone, Dual SIM Dual Cameras, WCDMA & GSM Network, Waterproof grade: IP67, Walkie Talkie: Full Band 400-480MHz(Yellow) Lead Time: 1~3 Days.
Wholesale:
$202.98
Case
of
20
Units:
$4120.40
$3998.80
(10.500kg, 330x220x320mm)

Accumulate last 30-day orders, enjoy lower price
| | |
| --- | --- |
| ≥ 1 unit | $206.02 |
| ≥ 2 units | $204.50 |
| ≥ 1/4 case | $202.98 |
| ≥ 1/2 case | $201.46 |
| ≥ 1 case | $199.94 |
| ≥ 4 cases | $198.41 |
| ≥ 10 cases | $196.89 |
---
| | |
| --- | --- |
| Same model in different Colors: | |
Sales Manager: Ms. Jojo

+86-15919959091
Item #: S-MPH-5002Y

10226 views
Description
1) Brand & Model: S9

2) Operating System: Android 4.2

3) CPU: MTK6572 1.0GHz Dual Core

4) RAM: 512MB

5) ROM: 4GB

6) SIM Card Quantity: Dual SIM

7) Camera: Dual cameras

8) Connectivity: 1 x Micro SIM slot, 1 x WCDMA / GSM SIM slot, Micro USB, Earphone 3.5mm, Microphone, Speaker

9) GPS: Built in, also support A-GPS with EPO assistance to speed up positioning

10) Video recording: Yes

11) Sensors Proximity Sensor, Magnetic Field Sensor, Accelerometer Sensor, Gravity Sensor, Light Sensor

12) Network Mode: 2 SIM/ Dual Bands

13) Waterproof and Dustproof Rating: IP67 (Submersible up to 1 meter under water)

14) Digital Intercom PTT, Network Intercom ET

15) Walkie Talkie: Full Band 400-480MHz

Network:

1) Network type: WCDMA & GSM Network

2) Band (3G): 850/2100MHZ; Band (2G): 850/900/1800/1900MHZ

3) WiFi: 802.11b/g wireless internet, Portable Wi-Fi Hotspot (3G Tethering)

4) Bluetooth: V4.0

Language:

1) Bahasa Indonesia, Bahasa Melayu, German, English, Spanish, Filipino, French, Italian, Magyar, Dutch, Portugues (Brasil), Portugues (Portugal), Vietnamese, Turkish, Greek, Russian, Hebrew, Arab, Thai, Korean, Simplified Chinese, Traditional Chinese

Display:

1) Screen type: Capacitive (5 points touch)

2) Screen size: 4.5 inch

3) Screen resolution: 854x480

4) Screen Color: 260K Colors

Storage:

1) External memory: TF Card up to 32GB (no including)

Camera:

1) Camera type: Dual cameras (one front one back)

2) Front camera: 2.0MP

3) Back camera: 8.0MP

Battery:

1) 3.7V/4100mAh Li-ion battery (Detachable)

2) Talk time: 4-8 hours

3) Standby time: 140 hours

Media Formats:

1) Picture format: JPEG, GIF

2) Video format: MP4, 3GP

3) Music format: MP3, WMA

4) E-book format: TXT, PDF

Additional Features:

1) GPS Navigation, Email, MP3 Playback, Touch Screen, Bluetooth, Wi-Fi, Video Player, Gravity Response, Front Camera, Message, Google Play, Adobe Flash

Dimensions:

1) Size: 155mm x 75mm x 22mm

2) Weight: 289g (Including battery)

Package Contents:

1) 1 x Phone

2) 1 x Earphone (100cm)

3) 1 x 100~240V EU plug power adapter

4) 1 x Data cable (80cm)

5) 1 x Battery

6) 1 x Antenna

7) 1 x Clip
1. Note: This Android OS Phone is designed only to work with the current Android OS installed in it. Any alterations such as upgrades or flashing a newer version will void the warranty.
2. The stated ROM amount shows the maximum available ROM with nothing installed. However, the Android OS and pre-installed software from the manufacturer will occupy some of this ROM. The available ROM on the device.
We will send the correct Plug Adapter that suitable for the Country in the shipping address:
Europe Plug Adapter (2 Pin Round Pin):
Europe countries, Africa, Middle East
USA Plug Adapter (2 Pin Flat Pin):
United States, South America, Caribbean, Canada, Japan, Korea, Philippines, Thailand and Taiwan
Australia/New Zealand 2 Pin Plug Adapter:
Australia, New Zealand, Argentina
UK Plug Adapter (3 Pin Flat Pin):
England, Ireland, Scotland, Hong Kong, Pakistan, Singapore, Malaysia, Vietnam, Maldives and Qatar
Due to package variations from suppliers, the accessories customers receive may be different from the images displayed.

More Pictures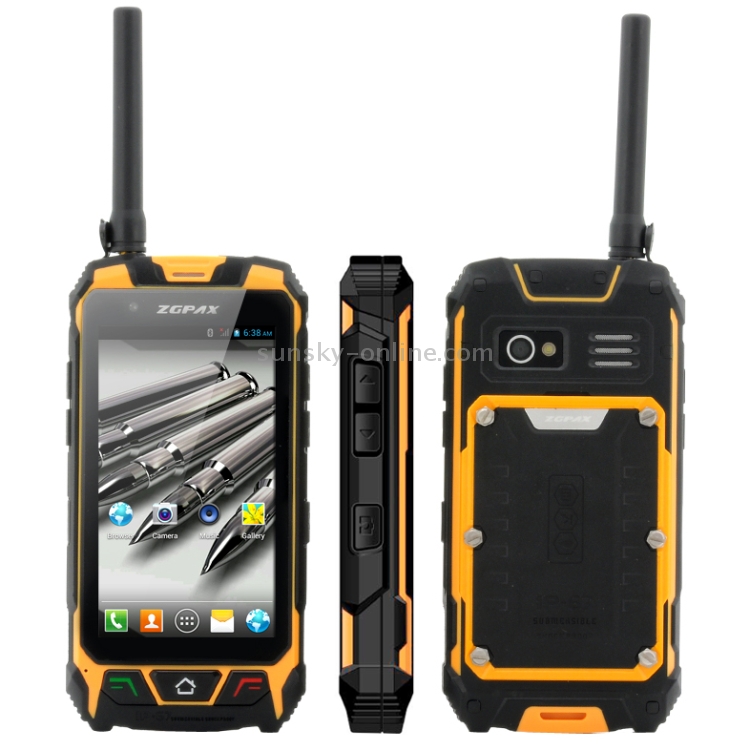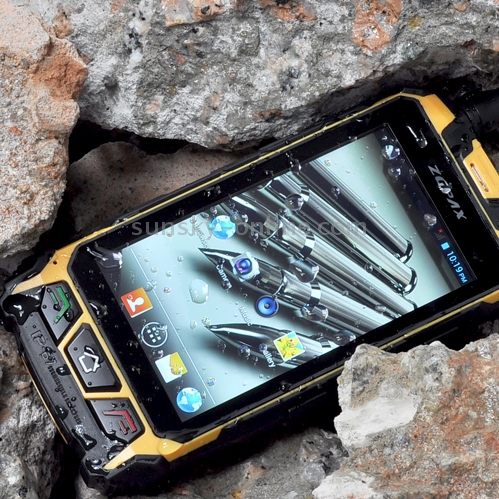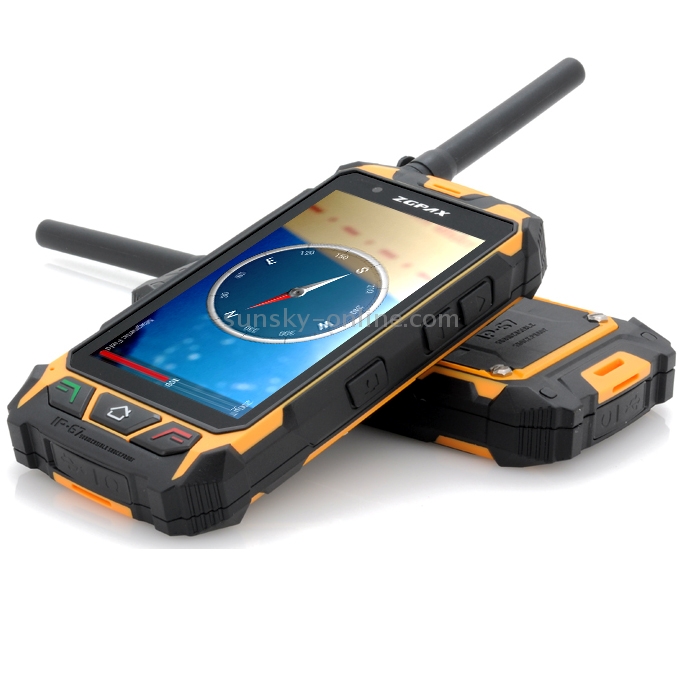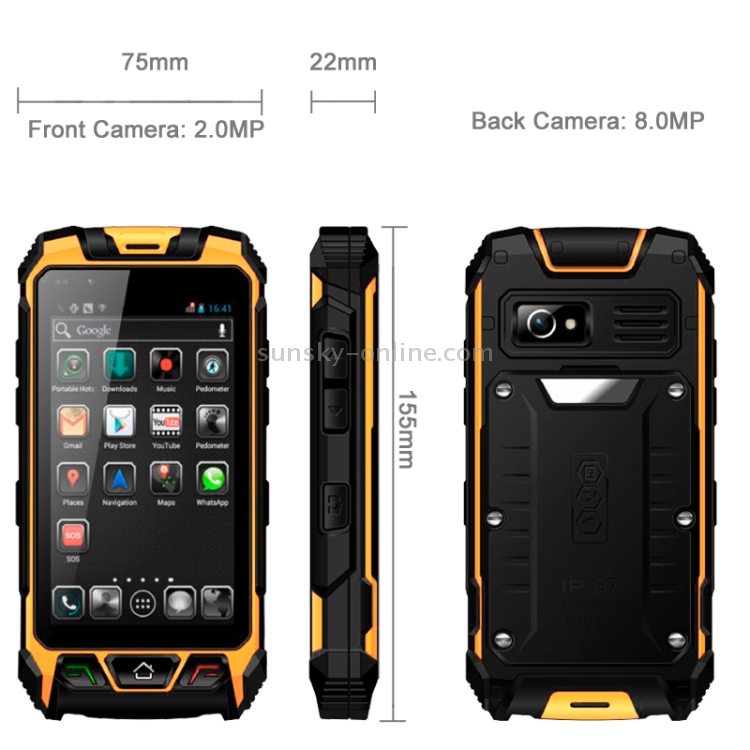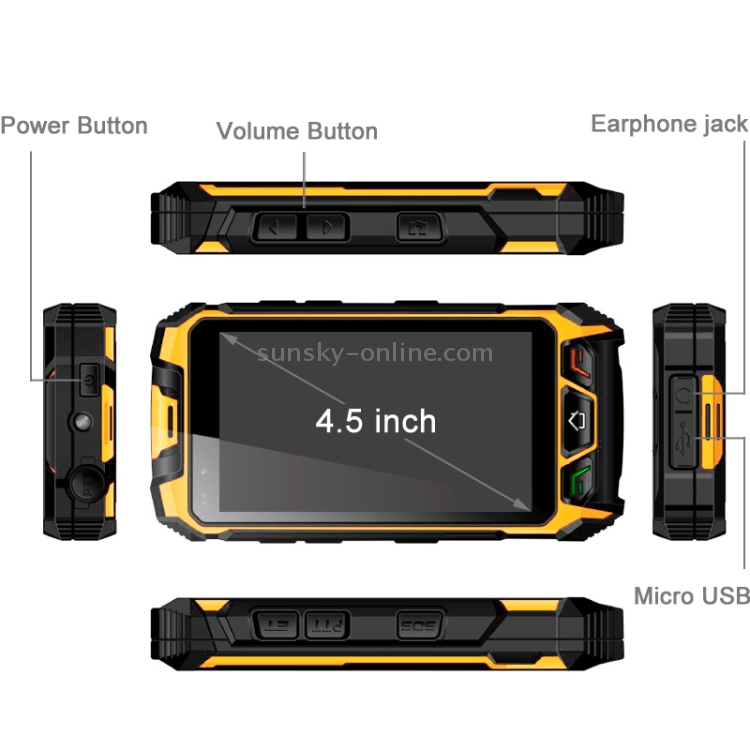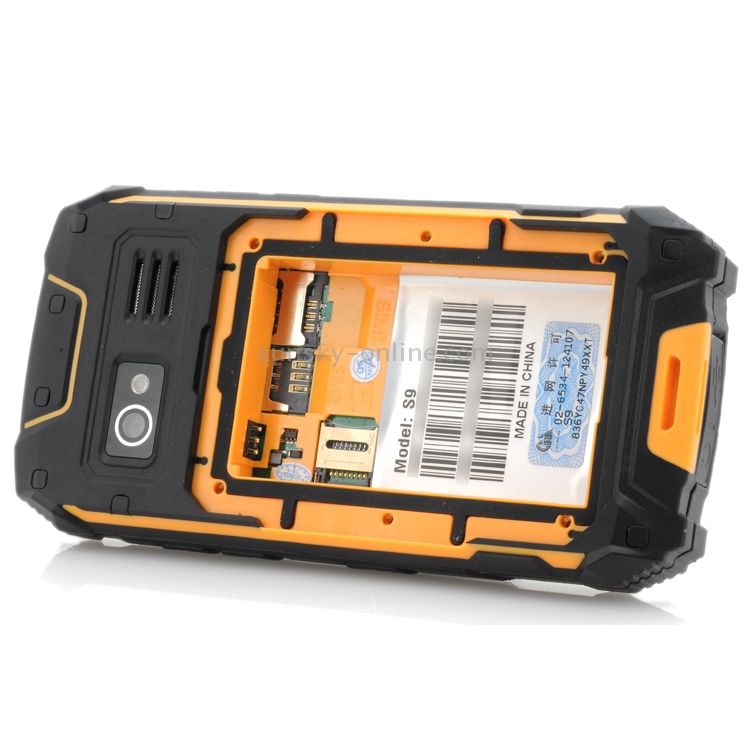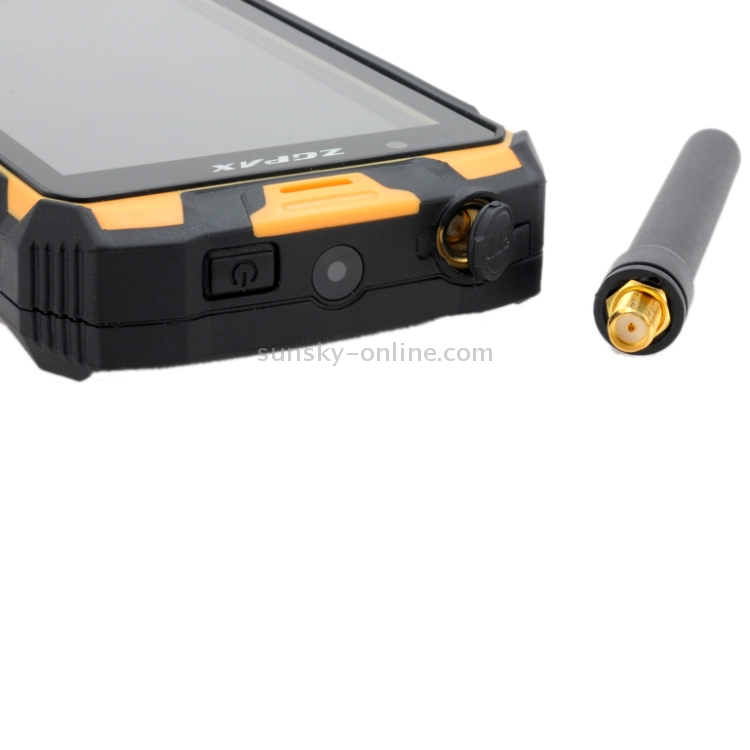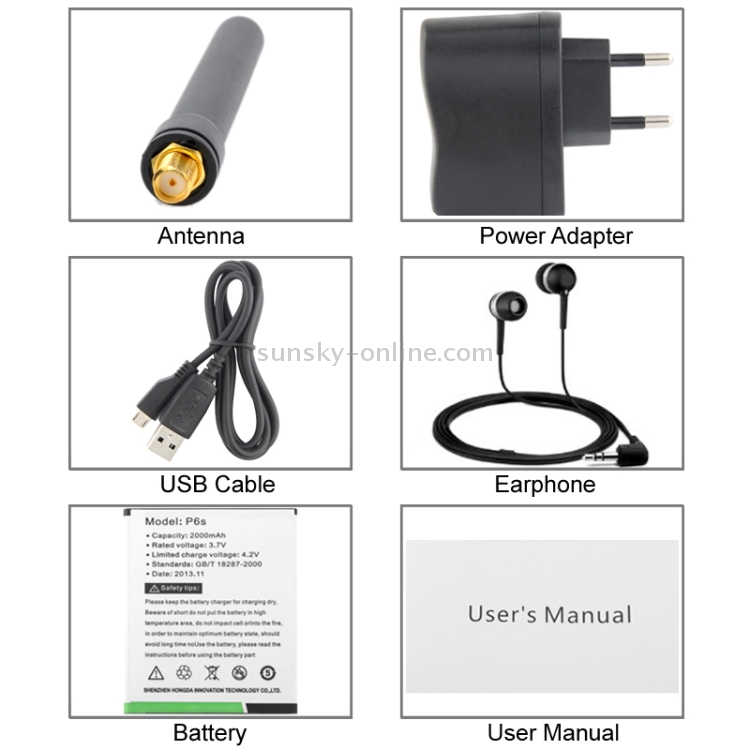 Pack All Images and Download

Reviews
Posted on 05/16/2013 03:28
Jazz from Russian Federation
Where from http://www.sunsky-online.com I can find USB cable for this LV599 mobile phone?
---
SUNSKY's Reply: Dear Jazz,unfortunately,this cell pone is out of production.we don't have cable for it now.
Posted on 08/31/2012 11:46
V.s.k from Russian Federation
Нормально за свои деньги. Чёрные накладки это пластик, а не резина, как может показаться. Приём уверенный, качество сборки достойное цены.
Posted on 08/02/2012 00:57
Darion182 from Italy
Great Phone
Posted on 08/01/2012 00:19
Roy from France
It's a nice phone !! it can go in the water without problem ?
---
SUNSKY's Reply: Dear Roy,sorry it doesn't go in the water,the waterproof means it is no problem if it is dropped water, thanks.
Posted on 07/29/2012 00:52
Bopia09 from Russian Federation
Здравсвуйте.
Купил у Вас сей телефон. Телефон очень хороший и мне понравился очень, единственное у него после 4 дней использования сломался шлейф соединяющий две половины аппарата, и из за этого экран теперь белого цвета. Подскажите, где его можно купить?
---
SUNSKY's Reply: Dear bopia09,you can buy this item S-MUDC-5002R, thanks.
Posted on 07/24/2012 04:14
Edman from Botswana
Very good quality product as always, thanks a lot guys. My customers likes this one a lot.
Posted on 07/16/2012 03:59
Jazz from Belarus
Телефон не может найти сеть. Что делать?

---
SUNSKY's Reply:
Dear Jazz,may I know if you send back for repairing?thanks.
Posted on 07/12/2012 18:31
Bjorn from Netherlands
good price !
Posted on 05/16/2012 03:23
Darion182 from Italy
Excellent Phone
Posted on 05/07/2012 13:54
Go4trends from Germany
Great Items - Great Price



Shipping Methods
To list all the shipping costs from different carriers, select the quantity and your country, and then press [Calc].
| | | | |
| --- | --- | --- | --- |
| | Carrier | Transit Time | Shipping Cost |