Music Angel (JH-MAUK2), USB power portable speaker with FM Radio, Support TF(Micro SD) Card, USB Flash Disk, Built in Rechargeable Li-ion Battery (Silver) Lead Time: 2~5 Days.
Wholesale:
$8.01
Case
of
40
Units:
$336.40
$314.00
(10.500kg, 360x300x310mm)

Accumulate last 30-day orders, enjoy lower price
| | |
| --- | --- |
| ≥ 1 unit | $8.41 |
| ≥ 2 units | $8.17 |
| ≥ 1/4 case | $8.01 |
| ≥ 1/2 case | $7.93 |
| ≥ 1 case | $7.85 |
| ≥ 4 cases | $7.69 |
| ≥ 10 cases | $7.53 |
---
Same model in different Colors:
[
Buy in bulk
]
| | |
| --- | --- |
| Sales Manager: Ms. Kathy | |
| | |
| +86-13420952895 | |
| | |
Item #: S-MS-0535

13626 views
Hot Items
Featured Products
Computer & Networking
Recently Viewed
Description
1) FM Radio, can search the channel automatically

2) Stereo sound, Ultra-low sound, Built in 3.7V/600mAh Rechargeable Li-ion Battery,can enjoy the wonderful music anytime,anywhere.

3) With the audio port, you can connect this unit to other MP3 players.

4) Portable music system compatible with MP3, MP4, Mobile Phone, Computer, iPod,PDA, etc.

5) Line in function.

6) Support MP3,WMA dual-format music player that supports large-capacity(8G) U disk,Micro SD/MMC card.

7) Best Gift for people enjoying Outdoor activities, Camping on the Beach or traveling

* Specifications:

1) Portable Speaker + Card Reader + FM Radio

2) Frequency Response : 150 -18000Hz

3) Rated Power: RMS 6W(3W+3W)

4) Loud Speaker : 1.77 inch

5) Audio Plug: 3.5mm

6) Signal And Noise Ratio of power amplifier: > 80dB

7) Impedance: 4 ohms

8) Power: DC 5V

9) Product Size: 164x53.22x50.33mm

10) Weight: 178g
OEM are Welcome! we can print customer's artwork and company logo

More Pictures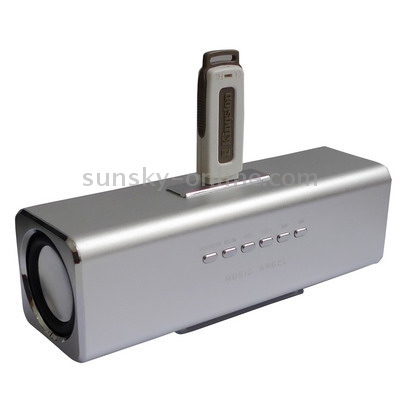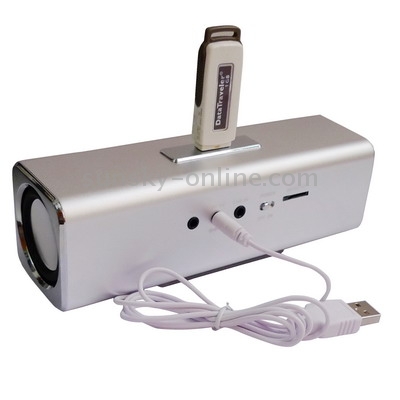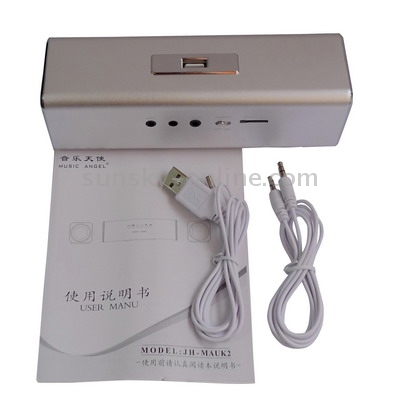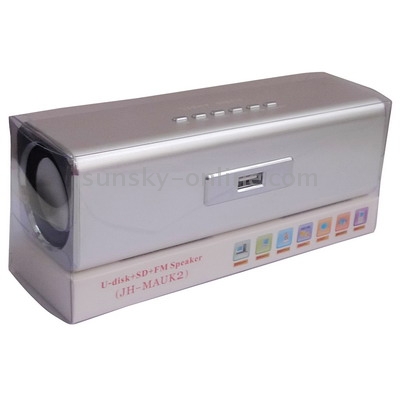 Pack All Images and Download

Reviews
Posted on 12/23/2013 11:39
Cmncorp from Russian Federation
Has some problems with playing from flashcards files which have a bitrate more than 64 kbits.
Good quality of aluminum body, loud speakers.
---
SUNSKY's Reply: Dear Friend, Thanks for your support, SUNSKY Team wish you a happy shopping in our website!
Posted on 04/02/2013 06:29
Mordvovaa from Russian Federation
excellent product
Posted on 12/23/2012 18:04
Sylverbells
i received this but only static, cant get radio to work...the cable plugged into antenna and i guess other end goes where??? dangles if portable.......cant get anything out of it and not clear on where u plug what as far as charging or using it as speaker for computer..some proper instructions would be nice as the ones in package are lousy, especially when i dont understand or use MP, downloading music etc...just want it for the portable fm radio...please help, or is it defective..thx seasons greetings
---
SUNSKY's Reply: Dear Friend, the USB cable is helpful for the speaker to charge with power by computer or play the music file from the computer .The audio cable is used to connect the speaker with other audio device with 2.5mm jack , so that the speaker can play the music file of the audio device. There is the mode of FM , please press the key of mode ot choose FM , then you can hear the FM radio .
Posted on 07/05/2012 12:36
Alextriol from Ukraine
отличный звук! всем покупать!!
Posted on 05/05/2012 21:16
Edman from Botswana
This is so handy, thanks for a great product.
Posted on 01/18/2012 17:09
Eddiesan from Netherlands
Good sound quallity long life of battery!
Posted on 09/14/2011 04:27
Cantonadar from Italy
tutto perfetto...
---
SUNSKY's Reply: Dear Friend, Thanks for your support, SUNSKY Team wish you a happy shopping in our website!
Posted on 07/17/2011 21:21
Francilb45 from Spain
I received this product in good conditions of carriage, in a box, well protected. Your shipment was safe. functioning properly and has a great soniodo. Has FM radio, support for usb, ipod, mp4, mp3, telephone. Micro SD / TF. includes cable for battery charging and cable and satellite line fm.
I bought more than 10 units, and will continue to buy, plus Sunsky, rewards customers with gift if it exceeds the amount of $. I recommend buying Sunsky
---
SUNSKY's Reply: Dear Friend, Thanks for your support, Sunsky Team wish you a happy shopping in our website!
Posted on 06/28/2011 04:19
W_allam from France
Nice item..
Posted on 06/27/2011 10:01
W_allam from France
Good product



Shipping Methods
To list all the shipping costs from different carriers, select the quantity and your country, and then press [Calc].
| | | | |
| --- | --- | --- | --- |
| | Carrier | Transit Time | Shipping Cost |