2.4GHz 4 Channels Wireless Audio / Video Transmitter & Receiver System with IR Extender Feature, Maximum Transmission Distance: 150m Lead Time: 1~3 Days.
Wholesale:
$35.78
Case
of
20
Units:
$751.40
$701.20
(12.800kg, 440x330x570mm)

Accumulate last 30-day orders, enjoy lower price
| | |
| --- | --- |
| ≥ 1 unit | $37.57 |
| ≥ 2 units | $36.50 |
| ≥ 1/4 case | $35.78 |
| ≥ 1/2 case | $35.42 |
| ≥ 1 case | $35.06 |
| ≥ 4 cases | $34.35 |
| ≥ 10 cases | $33.63 |
---
Sales Manager: Ms. Jojo

+86-15919959091
Item #: S-SPC-1117

10280 views
Hot Items
Featured Products
Spy & Security
Recently Viewed
Description
1) Your wireless audio / video system consists of sender unit which you connect to your satellite receiver, DVD Player etc, and a receiver unit that you connect to a TV anywhere in your home.

2) The Audio / Video sender converts the A/V signal from you're a/V product into a 2.4GHZ wireless Radio Frequency(RF) signal and transmits it (event through walls) to the audio/video receiver unit. The audio/video Receiver converts the signal back to an A/V signal and passes it through a cable to your TV's COAX input, or A/V input jacks

3) The Audio/Video sender system also includes an IR extender feature. This lets you remotely control the A/V product that the sender is connected to, from the location where the receiver is located. For example, you can control a DVD player in your living room, while watching it on a TV in your bedroom

4) Range: Up to 150m free field, up to 35m through walls and ceilings

5) Power: 220V AC/50Hz, 2 x DC adapter

6) Frequency: A/V: 2.4GHz, 4 channels (1, 2, 3, 4); IR: 433.92MHz

7) Audio: Stereo
OEM are Welcome! we can print customer's artwork and company logo
We will send the correct Plug Adapter that suitable for the Country in the shipping address:
Europe Plug Adapter (2 Pin Round Pin):
Europe countries, Africa, Middle East
USA Plug Adapter (2 Pin Flat Pin):
United States, South America, Caribbean, Canada, Japan, Korea, Philippines, Thailand and Taiwan
Australia/New Zealand 2 Pin Plug Adapter:
Australia, New Zealand, Argentina
UK Plug Adapter (3 Pin Flat Pin):
England, Ireland, Scotland, Hong Kong, Pakistan, Singapore, Malaysia, Vietnam, Maldives and Qatar
Due to package variations from suppliers, the accessories customers receive may be different from the images displayed.

More Pictures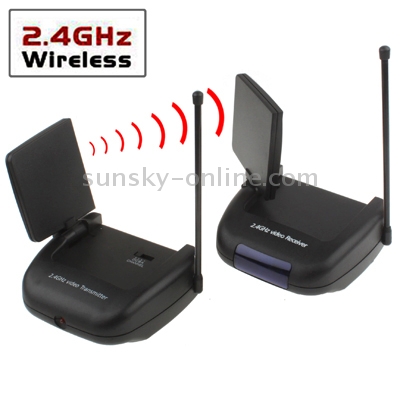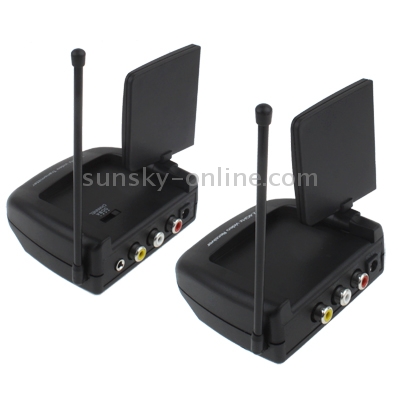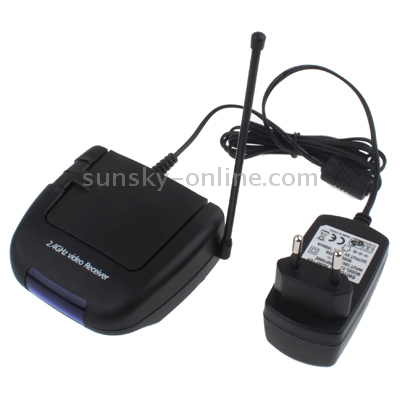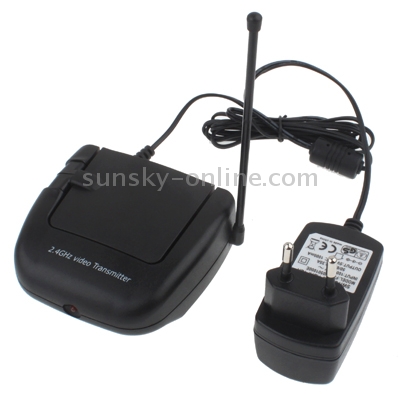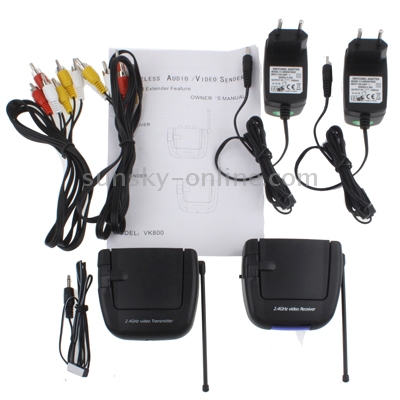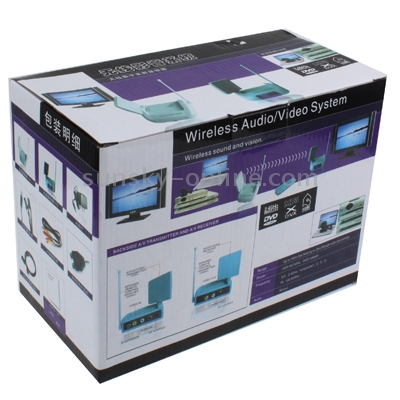 Pack All Images and Download

Reviews
Posted on 05/27/2013 21:41
Yusufsutarko from Indonesia
The devices is great. But the cables provided is bad quality. I had to change both of the RCA cable supplied with a new one.
Posted on 11/11/2012 22:17
Shamberger from Kazakhstan
Excellent quality!
Posted on 05/15/2012 03:22
MPS from Russian Federation
exelent



Shipping Methods
To list all the shipping costs from different carriers, select the quantity and your country, and then press [Calc].
| | | | |
| --- | --- | --- | --- |
| | Carrier | Transit Time | Shipping Cost |