5.0 inch TFT touch Screen GPS Navigator With 4GB Memory and Map, Support TF Card, Voice Broadcast, FM Transmitter Function
Wholesale:
$58.06
Case
of
20
Units:
$1219.20
$1138.00
(11.700kg, 500x350x270mm)

Accumulate last 30-day orders, enjoy lower price
| | |
| --- | --- |
| ≥ 1 unit | $60.96 |
| ≥ 2 units | $59.22 |
| ≥ 1/4 case | $58.06 |
| ≥ 1/2 case | $57.48 |
| ≥ 1 case | $56.90 |
| ≥ 4 cases | $55.74 |
| ≥ 10 cases | $54.58 |
---
Sales Manager: Ms. Miriam

+86-15018508079
Item #: S-GPS-040

7594 views
Hot Items
Featured Products
In Car
Recently Viewed
Description
1) 5.0 inch TFT touch screen, Solution: 480*272. Super slim mode

2) CPU: SIRF Atlas-IV 500MHZ

3) Operating system: Windows CE 6.0

4) 64MB DDR RAM

5) TF Card Max Support 8GB

6) Types of operation methods: touch screen

7) Functions: Navigation, MP3, MP4, JPG picture, textbook, calendar

8) Numbers of signal receiver: 20 Channels

9) Precision of Locating: Less than 10m

11) Antenna: with GPS internal Antenna and reserved external GPS Antenna jack

12) Battery: with 1100mAh built-in Lithium battery, can continuously use for about 5 hours

13) DC IN: 5V

14) Support different country's map, including English, Arabic, French, German, Spanish, Turkish, Portuguese, Czech, Italian, dutch, Russian, Hebrew, Persian, Indonesian.

15) with outside speaker

16) Supports FM Transmitter function

17) Language (option): English, German, French, Italian, Spanish, Portuguese, Hungarian, Russian, Polish, Finnish, Thai, Romanian, Slovak

18) Product size: 125.15x82.4x13.85mm

19) Weight: 139g
OEM are Welcome! we can print customer's artwork and company logo
We will send the correct Plug Adapter that suitable for the Country in the shipping address:
Europe Plug Adapter (2 Pin Round Pin):
Europe countries, Africa, Middle East
USA Plug Adapter (2 Pin Flat Pin):
United States, South America, Caribbean, Canada, Japan, Korea, Philippines, Thailand and Taiwan
Australia/New Zealand 2 Pin Plug Adapter:
Australia, New Zealand, Argentina
UK Plug Adapter (3 Pin Flat Pin):
England, Ireland, Scotland, Hong Kong, Pakistan, Singapore, Malaysia, Vietnam, Maldives and Qatar
Due to package variations from suppliers, the accessories customers receive may be different from the images displayed.

More Pictures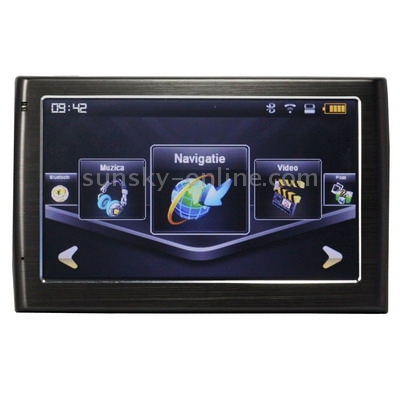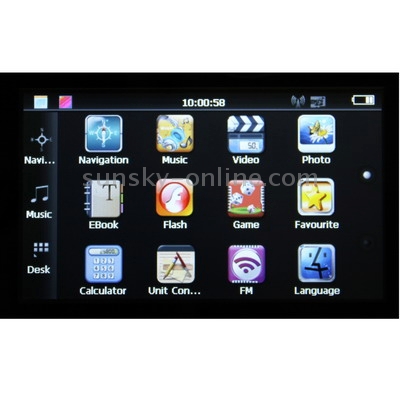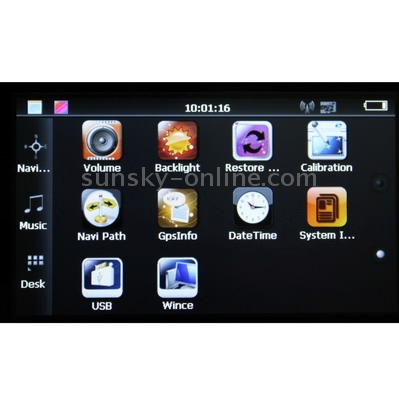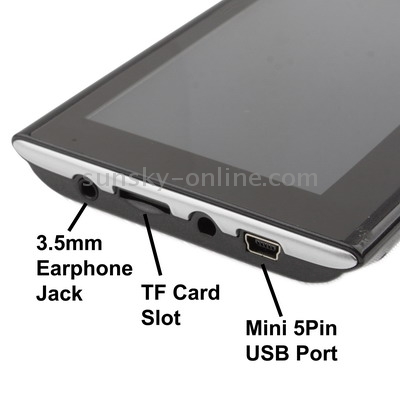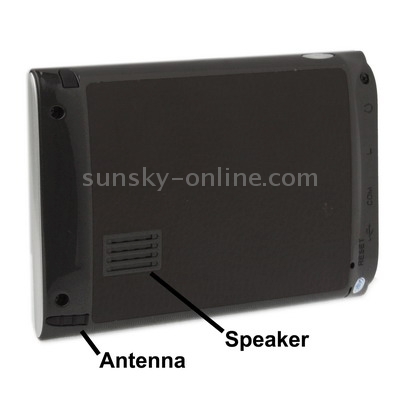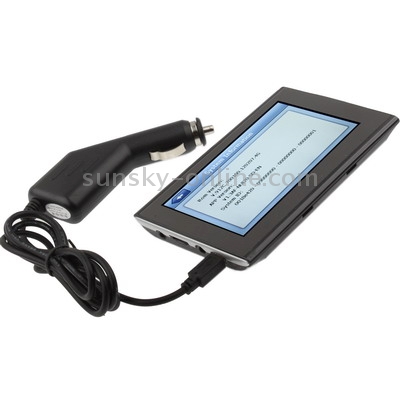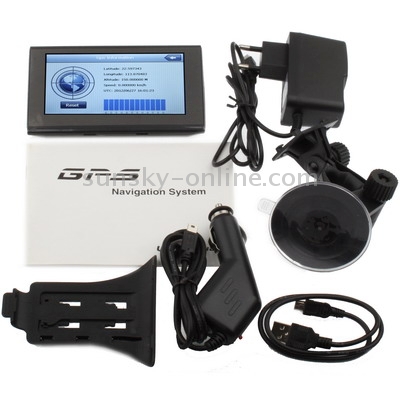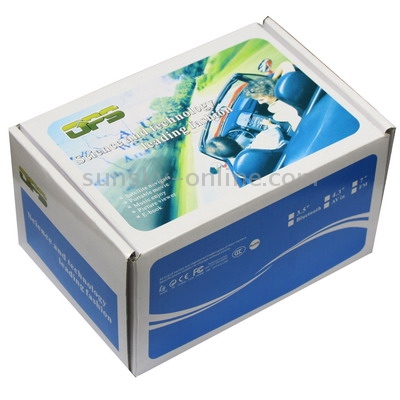 Pack All Images and Download

Reviews
Posted on 09/26/2012 10:59
Josué from
Panamanian map? Does it support garmin map?
---
SUNSKY's Reply: Dear josky06, sorry it doesn't support, thanks.
Posted on 01/30/2012 14:55
NeurOSick
CANADIAN MAP?
Or It's possible to create/convert maps?

If any of this, suggestion for other model?

tanks
---
SUNSKY's Reply: Dear friend , We offer the map according to the country thanks.
Posted on 12/12/2011 11:49
Gordienkodmitriyua from Ukraine
Ukrainian maps?
---
SUNSKY's Reply: Dear friend, sorry, we don't have Ukraine map, thanks.
Posted on 11/15/2011 14:51
Mauricio424 from Colombia
Support voice?
---
SUNSKY's Reply: Dear Friend ,the model build in speaker ,support voice ,thanks .
Posted on 11/15/2011 14:48
Mauricio from Colombia
Colombian map?
What type maps support?
---
SUNSKY's Reply: Dear Friend ,we can support colombia map ,and it is IGO map ,thanks
Posted on 11/08/2011 13:11
Rv9fh from Russian Federation
Спасибо, все получено
Posted on 06/22/2011 09:56
Szerol from Russian Federation
The good navigator for good money!
Posted on 03/24/2011 08:07
VladlenLP from Russian Federation
В наборе идет SD карта? Какая?
---
SUNSKY's Reply: It supports 4GB TF card.
Posted on 12/30/2010 11:55
Daniel from Spain
Please,Romania o Spain Map!?
---
SUNSKY's Reply: yes, we can put whole Europe countries maps in this GPS .
Posted on 12/24/2010 01:44
Svg from Belarus
Belarus map?
---
SUNSKY's Reply: Sorry, we don't have Belarus map.


Shipping Methods
To list all the shipping costs from different carriers, select the quantity and your country, and then press [Calc].
| | | | |
| --- | --- | --- | --- |
| | Carrier | Transit Time | Shipping Cost |