Home Page » Service & Support » Wholesale Program
SUNSKY has witnessed the rise of smart phones and other devices. Despite the changes and new trends ahead, unchanged in SUNSKY its supply of innovative and cost effective accessory products to global resellers and retailers, creating value for them.
To do wholesale and dropshipping from SUNSKY is easy, as handy as mixing goods and putting on orders, confirm the order with the appropriate shipping method and payment method. Moreover, SUNSKY understands the demands of different types of wholesalers and offers value-added support for different groups of wholesalers, such as download non-watermark product images, download pricelist, API access to get product data and creat orders automatically, free samples, coupon code discount, OEM service etc, escorting their businesses.
With SUNSKY, wholesalers are broken down into 7 levels. Each with their privileges
as follows:
SUNSKY Points
SUNSKY Points can be earned and redeem items on our website. Please see SUNSKY Points policy here: SUNSKY Points
Open API Access
SUNSKY provide Open API Platform to access our website data:
Get product data
Download Non-watermark product images
Get shipping cost for items
Create an order
Get order details
Check Balance amount and history details
Get SUNSKY hot items report by country
for more details, please contact your sales manager
Download Non-Watermark Product Images
For selling products online, large sharp pictures are critical. All our product images are made by professional photographers in specialized studio, and then edited by artists with the utmost loyalty to the original products in color and texture.
As one of our important business partners, you can, of course, download them for free.
Quotation with your Own Logo
As a wholesale reseller, it's important to make your own pricelist in a professional way, it's easy to do in your account center, upload your own logo picture, make profit percent, then download Excel or PDF format pricelist, catch business opportunity, make money fast !
Enjoy One-on-One Service by Sales Manager
Your assigned sales manager acts as your personal assistant, and deals with anything you encounter in working with SUNSKY. Feel free to contact your sales manager.
Buy at Bottom Prices
A bottom price is the lowest price at the price table: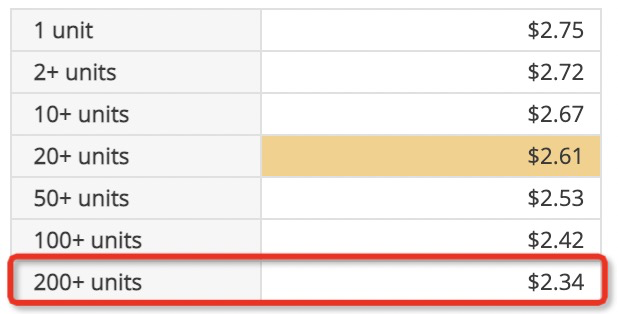 Bottom prices are granted according to your VIP Level.
You can set up bottom prices in the basket.
Wholesalers above VIP Diamond can buy any quantity at the bottom prices, without the minimum order limited.
Free Samples
Free samples are granted according to your VIP Level.
You can set up free samples in the basket.
Only the products that were released in the past 90 days can be selected as Free Samples.
If the product you selected as sample is less than $10, you'll get it free. Otherwise, deduct $10 from the original price accordingly.
The New Arrivals in the past 90 days

Customize Shipping Invoice
In order to Customs need, you may need to change the value of invoice and description of the products, all the customers can customize the invoice online
Amazon Data Feed
If you are an Amazon seller, you virtually have no need to edit product information from text to images. In our reselling support website: Data Feed Service, you can select any items into the data feed list, and then download the Amazon Data File directly. We are looking to cover more selling websites for you in future.

Hint: If your shop is built based on Magento, you can also create a data feed site for it in Data Feed Service, then upload the items in your data feed list automatically.

SUNSKY Trends Report
Hope to sell smartly? As a leading supplier among our kind, we work out Trends Report you may be interested in.
Product Sourcing and Shipping from China
What you don't find on SUNSKY but need to find, we can do for you:
1, Source the right supplier at good price and quality
2, Check the quality when we receive the goods, we make sure the product is in good condition before shipment
3, Pack the goods, put your label if you need
4, Use our shipping company which you choose to send the goods to your address

Feel free to ask your sales manager. our goal is to reply you in 2 hours in working time.
Shipment Service
Sunsky has a complete logistics system and cooperates with major logistics official companies. Prices and services are guaranteed.
Now Sunsky shares these services with you. Our professional team will follow up all aspects of logistic until you receive the package.
Check the shipping price online and start to ship the goods now.
Barcode Service
In Amazon and some special warehouse need barcode, we can print it and put on package with free charges for customers above Pre-VIP Level.
OEM/ODM Service
Sunsky has a big designer & engineer team, and strictly controls the product manufacturing process.
Sunsky provide OEM/ODM service,this service is exclusive for customers above Pre-VIP Level,
send your customized design and description to us, our professional team will follow it.
Further Needs
If you have any further needs that don't exist in our current benefits, please feel free to tell your assigned sales manager. We will do our best to meet your demand.This benefit is exclusive for customers above Pre-VIP Level